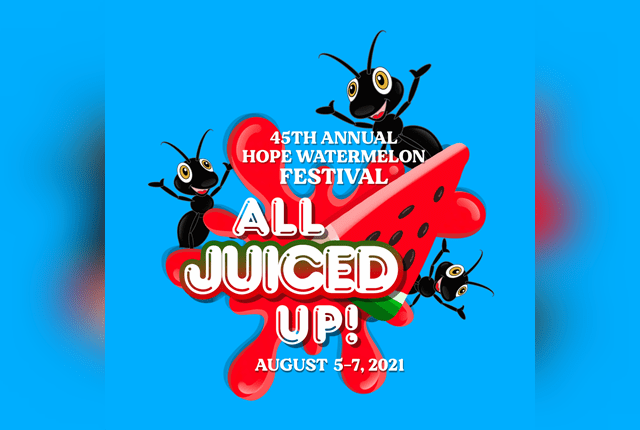 We enjoyed visiting Becky Moore with the Hope Chamber of Commerce. She had all the details about the upcoming 45th Watermelon Festival that starts on August 5th through to the 7th. This event has so many things to do for the whole family; the grand finale is a concert with Phil Vassar as the headline. Click here to get your tickets for the finale concert. Entry to the festival is free; parking is $5. These three days are packed with anything most people love to do. Don't miss the podcast!
THURSDAY, AUG 5 – NOON FESTIVAL OPENS –
Vendors (coliseum, horticulture building, outside & open-air pavilion) Concessions Open (concession rows)
T-MOBILE KIDZ ZONE: PONY RIDES -CAMP GLADIATOR -INFLATABLES-GELLYBALL -AXE THROWING – FACE PAINTING -FUN PHOTO BOOTH – HPSD READING BUS – LITTLE TYKES TOWN. GAME AREA: CORN HOLE -CONNECT FOUR -JENGA T-Mobile Charging Station -MAKE IT/TAKE IT in the Arts & Crafts Building next to the coliseum.
4:30 PM WATERMELON IDOL FARMERS BANK & TRUST STAGE
4:30 PM – 7:00 PM – KIWANIS BBQ CHICKEN SUPPER IN THE COMMUNITY ROOM
5:00 PM WATERMELON BY THE SLICE BIG TENT
5:30 PM WATERMELON OLYMPICS AREA BEHIND BANCORPSOUTH STAGE
6:00 PM WATERMELON CONTEST COLISEUM LOBBY WEIGH-IN
6:00 PM CHERIDY ADAMS- FARMERS BANK & TRUST STAGE
6:30 PM DOG SHOW – SWINE BARN
6:30 PM BAGGO TOURNAMENT LEGION FIELD
FRIDAY, AUGUST 6, 9:00 AM FESTIVAL OPENS
9:00 AM VENDORS/EXHIBITORS AND T-MOBILE KIDZ ZONE PONY RIDES (FRI/SAT) CAMEL RIDES (FRI/SAT) PLUS…EVERYTHING LISTED ABOVE
10:00 AM WATERMELON BY THE SLICE BIG TENT OPENS
10:30 AM CONCESSIONS OPEN
11:30 AM JENNIFER TAYLOR- FB&T STAGE
1:30 AM SOUL UNLIMITED SHOW BAND – FB&T Stage
3:30 DYLAN MURRAY – FB&T Stage
4:30 PM -7:00 PM – LIONS CLUB FISH FRY -COMMUNITY ROOM
5:00 PM BLACKWATER BAYOU – FB&T Stage
6:00 PM WASHINGTON VINTAGE DANCERS (In front of coliseum)
Gates open 6:00 PM 7:00 PM PRAISEFEST (Free Concert)
LEGION FIELD 6:45 PM- Williams Sisters – Jenny Taylor -Arnetta Bradford AND PRAISEFEST HEADLINER: CRUTCHFIELD!
SATURDAY, AUG 7
7:30 AM WATERMELON 5K – FAIR PARK MAIN GATE
8:00 AM CIVITAN ANTIQUE AND CLASSIC CAR SHOW- BEHIND BANCORPSOUTH STAGE
9:00 AM RUSTY WHEELS ENGINE SHOW OPENS
9:00 AM VENDORS/EXHIBITORS OPEN
9:00 AM FISHING DERBY HUCKABEE LAKE
9:00 AM KIDZ ZONE OPENS T-MOBILE KIDZ ZONE -9:00 AM KID'S CHARACTERS ON STAGE BANCORPSOUTH – JOIN US AND MEET MICKEY MOUSE, CHASE (PAW PATROL), AND BABY SHARK!
10:00 AM HEATHER DOUCET STATE FARM INSURANCE – MONEY IN THE HAYSTACK NEAR BIG TENT
10:00 AM WATERMELON BY THE SLICE BIG TENT (CONTINUES)
11:00 AM POLITICALLY CORRECT WATERMELON EATING CONTEST – BANCORPSOUTH STAGE
11:30 AM WATERMELON AUCTION BIG TENT
NOON: WATERMELON EATING BANCORPSOUTH CONTEST (ALL AGES)
NOON: PIANO MAN JACK FB&T STAGE
1:30 – 3:30 SEED SPITTING CONTEST FB&T STAGE
2:00 PM RICK SOREA – BANCORPSOUTH STAGE
2:30 PM MANPOWER – WATERMELON WADDLE DUCK RACES SWIMMING POOL (ADOPT A DUCK $5.00)
3:00 PM CARL JACKSON – BANCORPSOUTH STAGE
3:30 PM HOPE PIRANHAS SWIM TEAM EXHIBITION – SWIMMING POOL
4:00 PM SOUTHWEST ARKANSAS TAEKWONDO DEMONSTRATION – BANCORPSOUTH STAGE
4:00 PM NIGHTHAWK – FARMERS BANK & TRUST STAGE
6:00 PM GATE OPENS LEGION FIELD – WATERMELON IDOL FINALS – JAKE GILL BAND – Opening for PHIL VASSAR! THE FESTIVAL CLOSES AFTER THE CONCERT.
---
---
Tags: