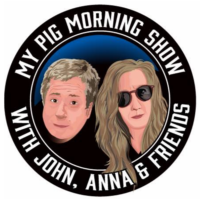 Mornings with JW, Anna & Friends
Wake up with JW and Anna every weekday morning! These two radio geniuses will help you find your way to a better day with the "best and most country music" along with a metric ton of games and prizes. JW is a local radio legend helping Texarkana stay informed and up-to-date. JW enjoys quizzing Anna about history, random facts, and anything about Canada. JW really loves to talk about the weather. Anna is a digital guru who keeps the show on the rails. Anna is a northern transplant who strives every day to make the world just a little bit better. Together they have the perfect blend of sweet and salty.
Facebook Question of the Day
Join in on the conversation and answer the FB MyPigRadio Question of the day. Sometimes we get to give away prizes just because we are the "most winning-est station ever!"

7:50 am = Local Birthdays and Anniversaries where we create local celebrities.
Click here to submit a Birthday or Birthday.
Prize = $15 gift certificate from Trad N Post.
Trad N Post is located at 535 E Front St De Kalb, TX | (903) 701-2082.
8:00 am = Friends from the Community
Tune in and learn more about what is going on in our area. Visit with JW & Anna about upcoming important events and issues to our area community. Tune into the MyPigRadio FB page to meet the hosts and their guests.
We are at 1323 College Drive, Texarkana, Texas.
Click here if you'd like to come in and be one of our "Friends From The Community."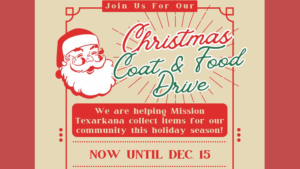 We are thrilled to share some exciting news with you all. The Premier High School Texarkana Student Council has come up with a heartwarming initiative to give back to our community by organizing a Christmas Coat and
Christmas Coat and Food Drive
John, Anna and Friends