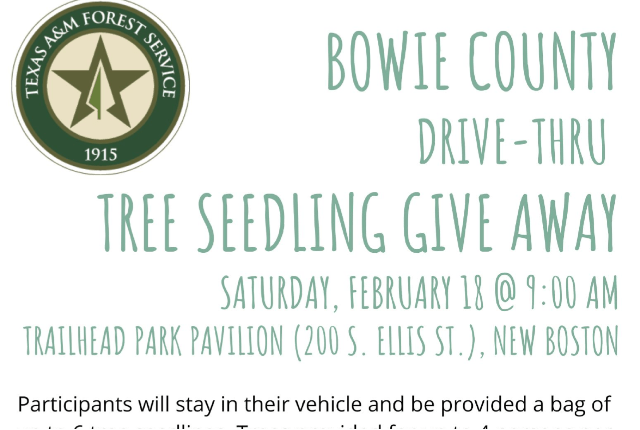 Courtesy Bowie County Extension
Just in time for tree planting season, here's your chance to get the seedlings you need.
Here is a Press Release from the Bowie County Extension Office:
The Bowie County Master Gardeners, in conjunction with the Texas A&M Forest Service will be holding a FREE tree seedling give away beginning at 9:00 AM on Saturday, February 18, 2023.
Trees will be handed out at the Trailhead Park Pavilion (200 South Ellis Street) in New Boston
on a first-come, first-served basis beginning at 9:00 AM and lasting until all trees have been
distributed.

It is anticipated that we will have 400 total seedlings to distribute. Scheduled varieties are:
Sawtooth oak, Allegheny chinkapin, and Bald cypress.

Participants will stay in their car and will be provided up to 6 total seedlings. Trees will be
provided for up to 4 persons per vehicle. For more information, please call 903-628-6702.
Tags: