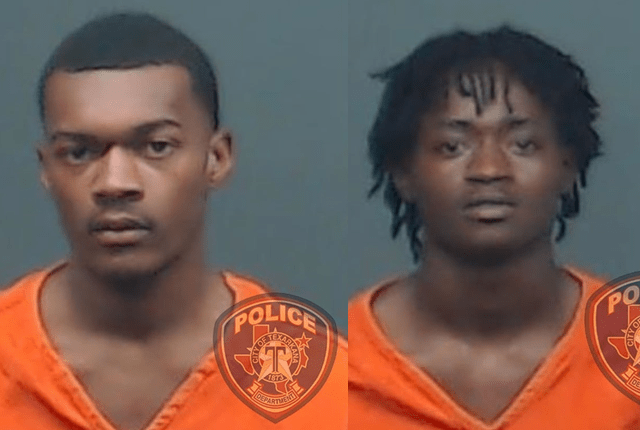 Courtesy TTPD
Texarkana Texas Police make quick work of rounding up a couple of suspects who allegedly stole from a Central Mall business.
Here is the News Release from the police department:
We arrested Kevontruis Cato and Detrayveon Richardson on Tuesday for Theft and Evading Arrest after a foot chase near Central Mall.
Officer Quentin Miller was sitting in the Convention Center parking lot eating his lunch when a guy pulled up and told him that two men had stolen a bunch of stuff from JCPenney and were being chased by store employees. Officer Miller found two men who matched the description that he'd been given as they walked down Kennedy Lane carrying three big bags. When the two saw him, they both immediately took off running. They ran through Cowhorn Creek and into the nearby Creekside South Apartments. Officer Miller followed a trail of water on the ground to Richardson, who was found hiding in the laundry room there. His clothes were soaking wet from his trip through the creek. He was arrested.

Officer Colton Johnson then saw the second guy running through the back yards along Nichols Drive. He couldn't get to him but radioed to the other officers in the area. Moments later, Officer Brent Lawing saw Cato about a block away on Kennedy Lane. He apparently had run out of gas at that point, so he just sat down on the curb and gave up when he saw Lawing walking toward him.
Richardson and Cato were identified by JCPenney employees as the pair that they'd seen cramming clothes into bags inside the store before running out without paying for anything. They were transported to the Bi-State Jail and charged with Theft and Evading Arrest. Bond was set at $6,000 for both men for those two charges, but Richardson had a probation warrant too. His bond includes another $631 for that charge. Cato bonded out on Wednesday, but Richardson is still in jail as of this morning.
Tags: