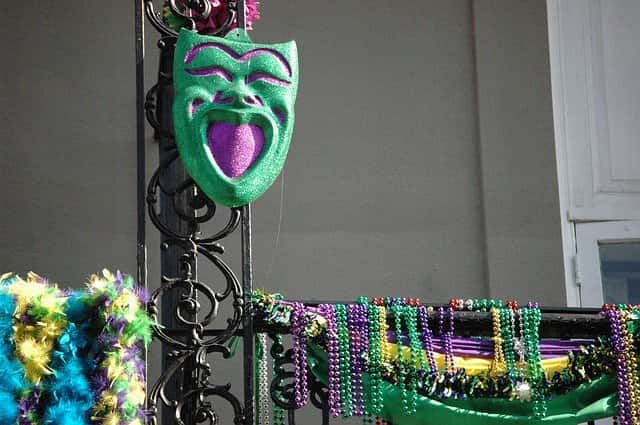 Courtesy Pixabay
There are three colors associated with Mardi Gras. They are purple, green, and gold. Do you know the significance of these three colors?
In 1892, the Rex Parade in New Orleans had as the theme that year, 'Symbolism of Colors'. According to Mardi Gras New Orleans 
 Purple Represents Justice. Green Represents Faith. Gold Represents Power.
However, as the late Paul Harvey would often say, 'Here's the Rest of the Story'. A New Orleans historian, Errol Flynn LaBorde did some research on the subject. It seems that, yes, those three colors were selected  in order to honor the visiting Russian Grand Duke Alexei Alexandrovich Romanoff that year of 1872. But why THREE colors?

LaBorde and his team found that Rex founders believed "a king must have a kingdom and a kingdom must have a flag" –and because the United States, Great Britain and France had tricolors flags, so should the flag that flew over Carnival. Not only that, the choice of a royal purple seemed obvious. Then, according to "heraldry," you need both "metals" and "colors." When it came to metals, gold also seemed obvious for a king. Then, also according to rules that determine coat of arms, there are only five acceptable color choices: Red, blue, purple, green and black. Laborde believes that the final choice came down to purple, gold and green or purple, gold and black. Again, green must have been the obvious pick.

So. Make sure that you are wearing the Mardi Gras colors of purple, gold and green, if you are attending a Mardi Gras parade, especially if you aren't wearing a costume. You might get more beads that way.

Tags: