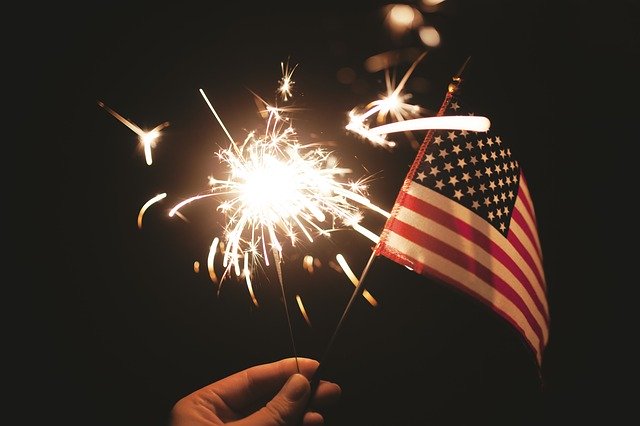 Courtesy Pixabay
America's Independence Day is Saturday, July 4th this year. How will you and your community celebrate? We'd like to know.
---
Freedom Fest 2020 will be Saturday, July 4th, from 3:00 PM until 9:00 PM will be staged in downtown Texarkana, Arkansas. The event organizers, Texarkana United is a religious and ministerial group, that partners with several local churches and organizations, for the betterment of the community. The fireworks display will be a 'silent display', meaning that the charges are not to be as loud as regular fireworks. In addition, there will be stages with eight bands playing during the event. Freedom Fest 2020 is a partner with KTBS Channel 3's Freedom Fest.
---
On Friday, July 3rd,  8:00 PM in De Kalb, the De Kalb Chamber of Commerce hosts the Annual Fireworks Display, in the De Kalb Industrial Park, across from TEXAR Federal Credit Union. This is a FREE event. Bring your lawn chairs and watch the fireworks at dusk. The Fireworks will be shot off from the DeKalb Industrial Park and people are asked to stay in/at their own vehicles to practice social distancing.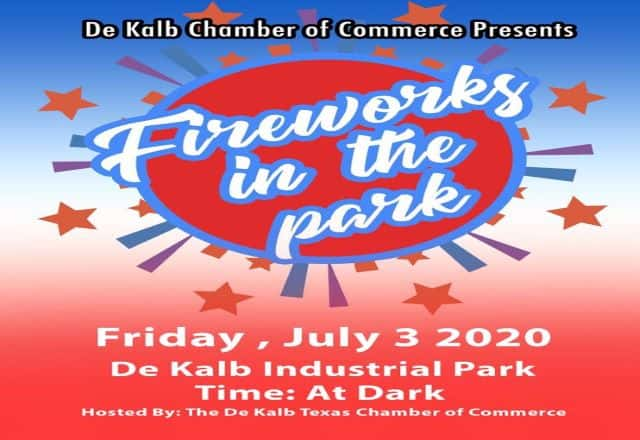 ---
The Retreat at Kenwood is having a 'Parade On Wheels' Saturday, July 4th, 9:30 AM at the facility, located at 210 North Kenwood Road in Texarkana. Suki O'Neal invites kids of all ages to decorate a bicycle, wagon, Barbie car, golf cart in red, white and blue, and drive through the Retreat, so that the residents may enjoy the day. It is FREE to enter; the winning display will win a $50.00 prize. Please RSVP by Friday, June 15th, by calling 903-278-8867.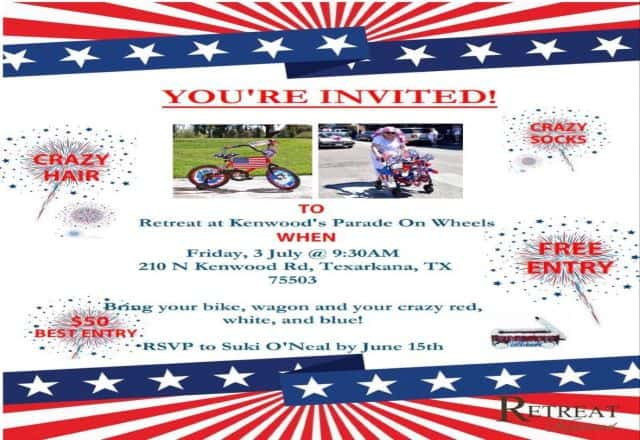 ---
Freedom Fest Fireworks Display, sponsored by the New Boston Chamber of Commerce, is slated for Saturday, July 4th, at the T & P Trailhead Park, in downtown New Boston. 9:00 PM. UPDATE: As of June 26th, the Chamber office announced that the Boy Scouts will not be serving their hamburger supper, nor will there be any live entertainment. All attendees are asked to practice social distancing on both the festival grounds and outside the grounds. Masks are encouraged, but not mandatory. You are invited to bring your lawn chairs, and enjoy the great show that you are used to seeing, as we celebrate our freedom.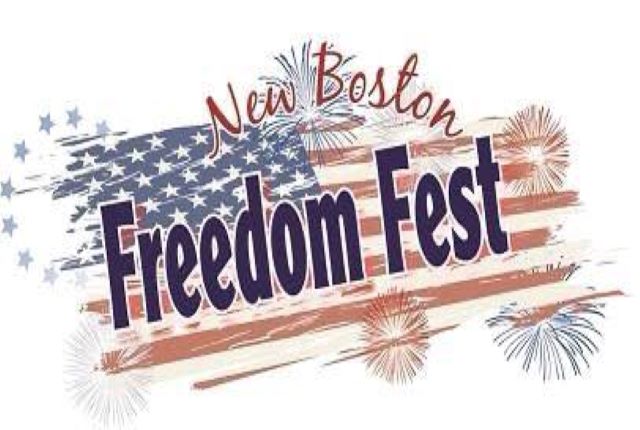 The Annual 'Light Up the Village' Independence Day event is Saturday, July 4th, at King Park, in Wake Village. Come join the FREE family fun and help us celebrate our independence at King park on the 4th of July! Festivities begin at 6:00pm so don't miss it. Fireworks will begin to shower the park at 9:00pm. Bring your lawn chairs, blankets, and family for an evening of good clean fun! We'll have a blast!
---
The annual 'Red River Valley Shoot-Out' Drag Races will be Friday, July 3rd, through Sunday, July 5th, at the Paris Dragstrip. Gates open at 3:00 PM Friday, with the time trials at 6:00 PM. Saturday, grudge matches begin at 11:00 AM, with time trials beginning at 1:00 PM. For ticket prices and more information, see: The Paris Dragstrip on Facebook.
---
The  Lamar County Chamber of Commerce  still plans to host its annual Fireworks Show this Friday night at dusk, at Love Civic Center.  The Paris Municipal Band will begin playing patriotic music at 8:00 PM, with fireworks to follow. Food trucks will also be on hand. Bring your lawn chairs and enjoy the festivities.
---
The annual Paris Texas Fourth of July Parade will roll through downtown Paris, 1000 AM, Saturday, July 4th. Parade staging begins at 8:00 AM, north of the Lamar County Courthouse in the parking lot. 'Honoring All' is this year's parade theme. FREE to enter the parade. Cash prizes will be given, for several categories. The parade is presented by the Celebrate America Committee.
---
The Atlanta Community Fireworks Show is Friday night,  July 3rd, 9:30 PM 606 South Louise in Atlanta, Texas. Hosted by the Atlanta Area Chamber of Commerce. There will not be a Summer Fest this year. Everyone is invited to watch the professional fireworks display, from the Old Track, located behind the Fire Department.
Circle J Cowboy ChurchCircle J Cowboy Church, located at 6912 Blackman Ferry Road, Texarkana, AR, is hosting a 4th of July Picnic, beginning at 4:00 PM on Saturday, July 4th, at the church. You are invited to bring your own picnic for your family. A grill for hamburgers and other meats will be provided for your use. Enjoy food, fun and fellowship with CJCC.
---
The City of Ashdown, Arkansas will present a Fireworks Show the night of Saturday, July 4th. The display will be staged at Ashdown Junior High School, 600 South Ellen Drive. City Clerk Kirk Mounts says that there will be no festivities, food, or any other activities happening, fireworks only. Anyone attending is urged to practice social distancing and any other necessary precautions.
---
CANCELLED
As of 6-10-2020, Marlon Sharp and Cowboys at the Cross appearance at Lockesburg on July 4th, has been CANCELLED.

As of 6-15-20, the City of  De Queen has CANCELLED the Let Freedom Ring Festival, due to the high number of COVID-19 cases in Sevier County.

This is what the area has to offer, so far. If you are a part of or know of, a celebration on the 4th of July, or even the week leading up to Independence Day, please let us know. Send your flyer or information to

Tags: